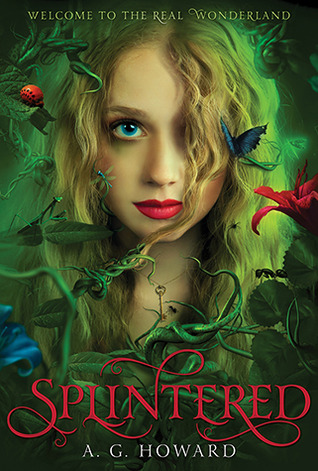 What's it all about?:
This stunning debut captures the grotesque madness of a mystical under-land, as well as a girl's pangs of first love and independence. Alyssa Gardner hears the whispers of bugs and flowers—precisely the affliction that landed her mother in a mental hospital years before. This family curse stretches back to her ancestor Alice Liddell, the real-life inspiration for Lewis Carroll's Alice's Adventures in Wonderland. Alyssa might be crazy, but she manages to keep it together. For now.
When her mother's mental health takes a turn for the worse, Alyssa learns that what she thought was fiction is based in terrifying reality. The real Wonderland is a place far darker and more twisted than Lewis Carroll ever let on. There, Alyssa must pass a series of tests, including draining an ocean of Alice's tears, waking the slumbering tea party, and subduing a vicious bandersnatch, to fix Alice's mistakes and save her family. She must also decide whom to trust: Jeb, her gorgeous best friend and secret crush, or the sexy but suspicious Morpheus, her guide through Wonderland, who may have dark motives of his own.
What did I think?:
I've been wanting to read this debut novel, which is part of a series for a while, and again, Chrissi's Cupboard Month in June provided the perfect opportunity. The cover art is absolutely beautiful and this continues within the book with purple pages and flowery illustrations along the sides of the pages. I love any book that takes a classic fairy tale and puts a new spin on it and A.G. Howard has written a perfect re-imagining of Alice in Wonderland with a twist, as we get to see the dark side of Lewis Carroll's famous world down the rabbit hole. It tells the story of a teenager called Alyssa who is the descendant of Alice Liddell, whom in turn was the muse for Lewis Carroll, and the reason behind the weird and wonderful tales of Wonderland. Alyssa is a bit different from your average teenager, she hears the whispers of insects and flowers but is trying to keep it under wraps and bury her head in the sand, desperately hoping she is not afflicted with the same condition that led her mother to be admitted to a psychiatric institution. Alyssa is also very creative, and uses insects as her inspiration for her artwork. It's perhaps not for everybody as she pins bugs to canvases, but she is clearly gifted and passionate about what she does, if only she could silence those pesky bugs!
'I've been collecting bugs since I was ten; it's the only way I can stop their whispers. Sticking a pin through the gut of an insect shuts it up pretty quickly.'  
The story really begins to pick up pace when a visit to her mother in the institution leaves her witnessing a particularly awful mental episode. Alyssa starts to wonder whether there may be some truth in the old stories and memories her mother used to tell her and the daily whisperings she has to endure from the bugs and plants. Another tumble down the rabbit hole with her friend (and crush) Jeb is definitely required as she attempts to lift the curse on her family that has passed from generation to generation. But this Wonderland is far darker than you can imagine with well-known characters like the White Rabbit and the Caterpillar appearing er… slightly differently is all I will say! Alyssa also meets Morpheus, a strange and mysterious character who has appeared to her regularly in her childhood in the form of a moth. Alyssa is told that she must complete several tasks before the curse on her family will be lifted and she can return home. One for example, is clearing up the sea of tears that Alice so annoyingly left during her adventure and which has made several of the inhabitants quite cross. Morpheus also completes a love triangle with Jeb who is beginning to realise his feelings for Alyssa, despite having a girlfriend in the "normal" world.
I don't want to say too much more about the plot, but believe me, you'll never look at Alice in Wonderland in the same way again! The characters were beautifully drawn with a clearly vivid imagination – the spider women gave me more than a few chills and the mysterious Morpheus both intrigued and delighted me. I also appreciated that the author didn't go overboard with the romance element of the plot, there was so much going on anyway that I think it would have been too much, so I found it was excellently written and not shoved in the face of the reader. The world-building is incredible – I've already mentioned the imagination that must have gone into writing a book like this but I feel I have to mention again that it was written in such a way that you could lose yourself quite easily in a fantastical place. I'm really looking forward to the next novel in the series, Unhinged to re-join Alyssa and…hopefully Wonderland?
Would I recommend it?:
But of course!
Star rating (out of 5):