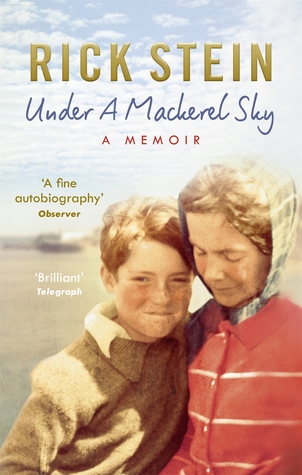 What's it all about?:
The wry, perceptive, and strikingly evocative memoir of a much-respected chef
Rick Stein's childhood in 1950s rural Oxfordshire and North Cornwall was idyllic. His parents were charming and gregarious, their five children much-loved and given freedom typical of the time. As he grew older, the holidays were filled with loud and lively parties in his parents' Cornish barn. But ever-present was the unpredictable mood of his bipolar father, with Rick frequently the focus of his anger and sadness. When Rick was 18 his father killed himself. Emotionally adrift, Rick left for Australia, carrying a suitcase stamped with his father's initials. Manual labor in the outback followed by adventures in America and Mexico toughened up the naive public schoolboy, but at heart he was still lost and unsure what to do with his life. Eventually, England called him home. From the entrepreneurial days of his mobile disco, the Purple Tiger, to his first, unlikely nightclub where much of the time was spent breaking up drink-fuelled fights, Rick charts his personal journey in a way that is both wry and perceptive; engaging and witty.
What did I think?:
Rick Stein is best known here in the UK as a chef with many thriving and successful restaurants under his belt, but he has also written a number of cookery books and presented shows on television, including Taste Of The Sea and Rick Stein's French Odyssey. Under A Mackerel Sky follows the same pattern as your average autobiography – a few tales from childhood, the troubles of adolescence/young adulthood and the serenity of "clued-up" happy, adult life. For the most part, this is how Stein's story reads. We hear about his childhood which was idyllic up to a point, the shadow over everything being his father's mental illness and the effect that it had on him personally, more so when his father sadly took his own life when Rick was just 18. Uncertain what to do with himself, he travels round Australia, picking up work when he can which is often strenuous manual labour, meeting new people, drinking quite a bit and generally having a good time.
When he comes home, he attempts several ventures, including a mobile disco and a nightclub – which he eventually loses the licence for after it becomes quite a rough place, notorious for its drunken fights. Throughout all his life experiences however, food played a big part in Rick Stein's life and he decides to open up a seafood restaurant. After a while and a lot of hard work, the restaurant becomes a great success and before long Rick Stein appears on our TV screens as a guest chef in Keith Lloyd's series Floyd On Fish before he is given the chance to head his own series accompanied by his loyal canine friend, Chalky who became a bit of a star of his own!
Unfortunately, I wasn't a big fan of this book for a couple of reasons. Firstly, I would have liked to see the emotional side of Rick a bit more. He didn't really go into too much depth about the death of his father which he may have had his own reasons for (fair enough) but I would have felt a slightly better connection with him if he had opened up a bit more. That was my other problem. I don't feel that we got to see the real Rick Stein through this book, more his public persona with a few juicy tid-bits here and there. I found his stories about travelling around Australia and Mexico more readable and there were certainly parts of his life at Oxford that compelled me to read on but other parts, especially the second half of the book just felt like a list of his accomplishments. I would just have preferred to read about the man himself and what made him tick, although I'm sure fans of his cookery series and books would enjoy reading about his rise to fame. I'm afraid this just wasn't the case for me.
Would I recommend it?:
Probably not.
Star rating (out of 5):